Article was first published in Oakland Press on February 3rd, 2019
Honor Community Health is making a tremendous impact on the Michigan medical community.
A deep lineup of gifted physicians is a major reason why.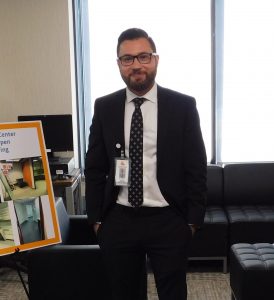 Dr. Sadeer Peter is a doctor at the Family Medicine Center in Pontiac. The Windsor native has been on Honor's radar for some time now.
"I did my residency through Pontiac General Hospital," said Peter. "So I trained in Pontiac for three years and enjoyed it so much that I applied to be on staff at Honor Community Health. That's where I've been since September of 2018, a full-time attending family medicine physician."
Honor Community Health was established in 2012 to provide top-level care to patients that otherwise might have fallen through the cracks. As a Federally Qualified Health Center, grants are received via state and federal government to help serve many of the uninsured or those on Medicaid.
"To me, there are a lot of doctors that can treat high blood pressure and send the patient home," said Peter. "But I like to be involved in the social aspect of the patient's well-being. I'll make sure they have proper transportation, check on the patient's living situation at home, and arrange for the pharmacy to deliver medications if patients can't get them on their own."
Peter earned his bachelor's degree in biological sciences from the University of Windsor, with a focus on physiology, DNA, and cells. He sees a wide variety of patients now, dealing with complex mental health issues in addition to infectious diseases and other primary care ailments.
"Training in Pontiac definitely showed me some of the struggles in the community and what was really needed," said Peter. "So many patients have their social situations ignored, mental health issues ignored. That's what attracted me to do even more for the people of Pontiac."
Peter also sits on the board of directors for the Michigan Academy of Family Physicians, helping to govern family medicine in the state. Honor Community Health continues to improve the lives of so many in Pontiac and its surrounding communities.
Dedicated physicians like Dr. Sadeer Peter lead that effort, one patient at a time.