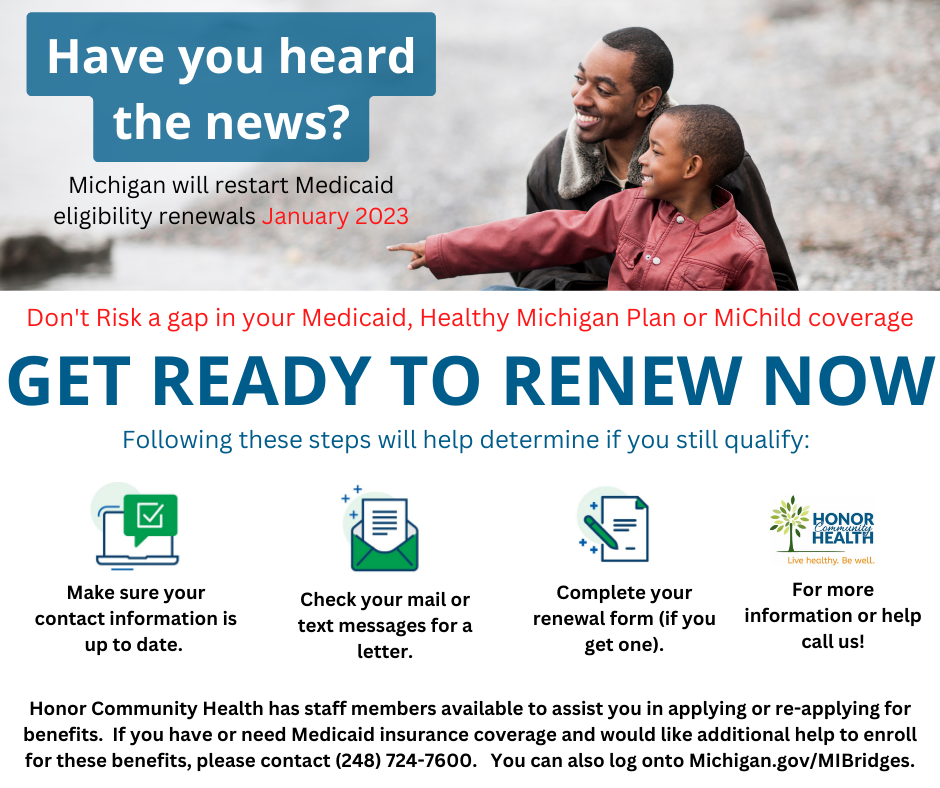 Enrollment Assistance
Honor Community Health is committed to improving the health care status of people in our community by providing streamlined enrollment assistance for multiple programs.
Staff members at Honor Community Health can help enroll individuals in Medicaid, Marketplace, MI Child, Healthy Kids, Healthy Michigan Plan, Food Stamps, and other resource programs.

Honor Community Health Cares Program
Honor Community Health serves all patients, regardless of ability to pay. Discounts for essential services are offered depending on household size and income.
Through our Honor Community Health Cares program, we promise to serve all patients, offer discounted fees for patients who qualify, and not deny services based on a person's race, disability, religion, sex, orientation or national origin.
At Honor Community Health, we accept Medicaid, Medicare, Children's Health Insurance Program (CHIP) and most other insurance carriers. For more information or to enroll in the Honor Community Health Cares Discount Fee Program, please call (248) 724-7600.
Affordable Care Act (ACA) Marketplace Enrollment
Since the Affordable Care Act (ACA) became law, many low-cost health insurance plans have become available to Michigan residents. Several of these plans come at no cost.
Don't delay – enroll now.
Penalties for going without health insurance are getting higher!
Honor Community Health is happy to assist you with Marketplace (Obamacare, Affordable Care Act) enrollment. Please do not use any other enrollment website other than www.Healthcare.gov, in order to get every credit available to you. Other sites are imposters and are not official.
Please call Honor Community Health at (248) 724-7600 to schedule an appointment for health insurance enrollment assistance.