Welcome to Honor Community Health!
Honor Community Health is a nonprofit, 501(c)(3) community health center with 16 sites throughout Oakland County, Michigan – including six integrated primary care sites, one dental site, a mobile dental bus, four school-based health centers and four school-based empowerment zones.
As a federally qualified health center (FQHC), Honor Community Health provide access to primary, behavioral health, dental care, and other specialty services to the communities we serve – regardless of insurance status, place of residence or ability to pay. FQHCs are governed by a consumer-majority, volunteer Board of Directors that are connected to the communities we serve.
Honor Community Health's primary focus is to provide high quality health services to those who have little or no access to health care, regardless of income or insurance status.
OUR MISSION
To provide for the health and wellness needs of the underserved of Oakland County through the provision of comprehensive, integrated primary, behavioral health, and dental care.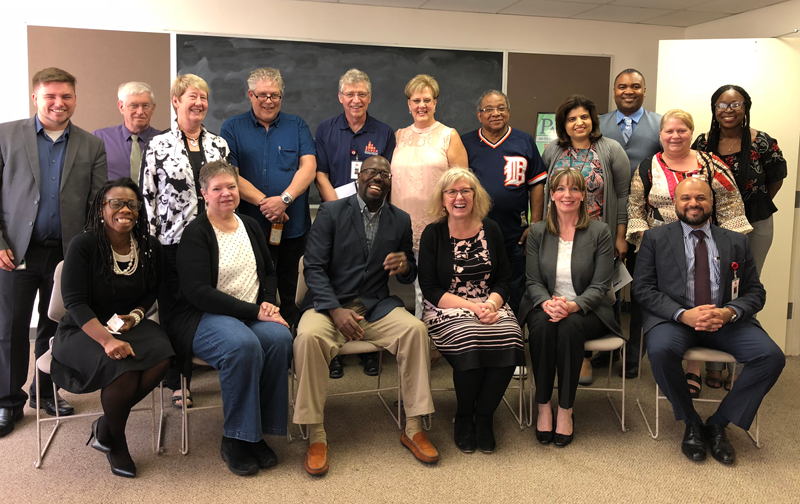 What is Integrated Healthcare?
At a time when finding reliable and affordable care can be a confusing and intimidating process, Honor Community Health is able to combine quality, patient-driven primary healthcare services with unmatched accessibility, flexibility and personal consideration.
Our community health centers offer an Integrated Primary Care approach – a patient-centered method that combines medical, dental and behavioral health services to more fully address the spectrum of problems patients bring to primary care.
Honor Community Health is a Health Care for the Homeless Center!
Our mission is to meet the health and wellness needs of vulnerable populations throughout Oakland County – including the homeless – through the provision of integrated primary care.
In spring of 2015, Honor Community Health was awarded a Healthcare for the Homeless (HCH) grant, allowing homeless individuals in Oakland County access to quality health care services from our highly trained clinicians. Honor Community Health is one of only a couple hundred HCH-funded providers in the United States.
Our HCH program is community-based, and provides comprehensive primary care, specialty care, mental health services, substance abuse treatment, dental care and other supportive services for the homeless.
If you are currently staying in an emergency shelter, on the street, camping out or even staying with a friend temporarily, you may be eligible for our services through the Healthcare for the Homeless program.
Honor Community Health is a certified Patient-Centered Medical Home!
At Honor Community Health, we are committed to being your partner in health care and aim to provide care that is patient-centered.
What is a Patient Centered Medical Home?
A medical home where you and your family can have short term illnesses and chronic health care needs addressed
The opportunity for you to have a hands on role in your health care and a partnership with the provider of your choice
Increased access to your health care provider
Coordinated health care services and follow-up
Access to evidenced based medical care and support for self-management of chronic disease
What you can expect from us:
You are our number one priority
Together, you and your provider develop your health care plan
Your provider leads your care team at all times
You and your care team work together to reach your health goals
What we expect from you:
Utilize Honor Community Health as your medical home for short term illness & chronic health care
Follow your health care plan and make healthy lifestyle decisions
Keep scheduled appointments
Provide feedback on how we can improve our services
Let us know what medications and/or supplements you are taking
Let us know of any changes in your health or symptoms you are feeling
Tell us when you have had a visit with another provider or an emergency room visit
Please call (248) 724-7600 today to schedule your appointment at one of our Honor Community Health sites.